Love Is A Verb.
Anyone who knows me, knows that I don't like to see children suffer, and I don't like to see anyone (or anything) go hungry. I LOVE to feed people…even though I don't really cook I am always happy to have food at my house for when our college kids visit. It makes me happy to make their tummies full, especially knowing some of them have had to go hungry during their childhoods.
Physical hunger and pain seep down into the soul of a child and creates unseen, festering wounds. It is vital that when they cry, someone comes to their aid. While working with the local children's department (CPS) we encounter these kids that have been crying because of abuse by their guardians. ITHM gets to come to their aid.
Our Little ITHM Valentines
Many of the children we help rescue and equip have suffered tremendously. We love to LOVE on them. Below are a few children who have experienced relief and aid because of your generosity. Thank you for loving on our kids in Kenya!
Pictured above is Little C, a 10-year old boy in need of love. A neighbor reported that C has been beaten for the past 3 years. Really??!! It has taken 3 years to report it?! I am dumbfounded. Our social worker and I went to C's school to interview him. It was easy to notice the scars on the side of his face (caused by being hit with a rubber hose), the scabs on his neck from being pinched and his healing black eye. We asked what happened and he said he had been beaten by his father. When we had him remove his shirt, my heart sank for this little boy as I saw the multiple scars where his flesh had been ripped with a whip. When we took him to the doctor, stripes were found on his flesh that stretched from his neck to his lower thighs. I asked him who cleaned his wounds when he bled, and he replied, "I clean them myself." Please pray for healing for C for healing on the outside of his body and deep within.
ITHM was able to get C the needed medical care, and take him to an orphanage where he is protected and able to go to school. He can live without fear that there are beatings awaiting him. C has not felt the love of his father, but for an afternoon, he felt the love of total strangers; not because we told him, but because we showed him.
On a recent home visit, we became friends with Brenda (with the great big smile). She showed us her swollen, painful legs. We facilitated a trip to the hospital where we found out she had blood clots in both legs from her ankles to her thighs. We pray she will recover soon so she can come back home to her baby girl.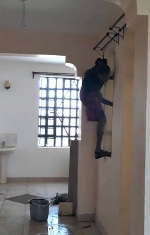 We recently had a "Clean Up Day" at the Treasure House with some of our ITHM students. As we prepare for opening, there is still much to be done in setting up the rescue center. Pictured is our fearless social worker, who isn't afraid to get her hands dirty. Be on the lookout for the after photos, which we will post on our Facebook page and Instagram.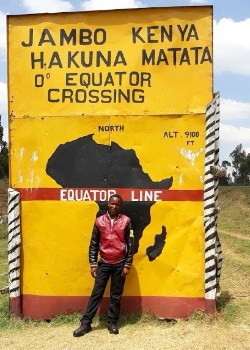 Pictured is Elias, who is doing wonderfully in trade school. He has said he never wants to go back to the slums again. He has set his visions higher! Our newest student, Grace, recently joined our education program. Even though she received extremely good marks on her exams, she could not pay school fees. Thanks to the generosity of our donors, she can now continue with her education.
When I drop my son off at school everyday, I remind him to "be love." As we continually come across cases of abuse, neglect, and extreme poverty, we get to be vessels of love; not love that uses so many words, but love in action. Thank you for all who are partnering with us and showing your love through your actions of prayers and financial support. Together, we are helping change lives!
Thank you for your continued partnership with ITHM. Together we are changing lives. We are grateful for your generosity!